HTC Shift shipping to UK February 19th: £885
Many of you know about the HTC Shift mobile device, well we have some good news for you. The HTC Shift version 800MHz, 1GB, 40GB, and Vista Business is coming to the UK on February 19th for £885.
Reg Hardware is reporting that Expansys are set to ship these devices as soon as 17th but at the moment has a date set for Feb 19th and is reported to be offered for sale through Orange.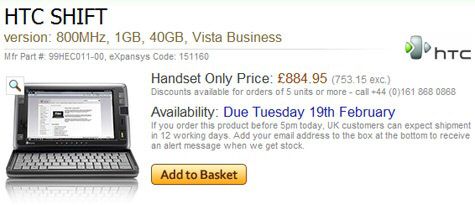 Just in case you have forgotten here are the specs of the HTC Shift —
The expansive 7-inch touch sensitive screen slides and tilts to reveal a full QWERTY keyboard, providing you with an uncompromised PC environment while working on the move.
Platform
– Mobile Notebook
– Microsoft Windows Vista Business-Processor/Chipset
– Qualcomm MSM 7200, 400 MHz – Intel low power processor, 800 MHz-Memory
– ROM: 128MB
– RAM: 1GB DDR2 microDIMM for Vista
– HDD: 40GB with G sensor-LCD Module
– 7" 800*480
– Color TFT LCD with LED backlight
– Touch Screen-UMTS/HSDPA/GSM/EDGE Data Function
– Internal antenna
– UMTS/HSDPA (tri-band, 850/1900/2100 MHz) and GSM/GPRS/EDGE (quad-band, 850/900/1800/1900 MHz)-HSDPA
– 3GPP Release 5 compliant
– UE category 5/6, QPSK, 3.6Mbps peak rate-Wireless LAN (manufacture option)
– WiFi 802.11b/g-Biometric Security
– Finger Print Reader-Digital Camera
– Color CMOS VGA Camera for Video Conference-Keyboard/Button/Switch
– Qwerty keyboard
– POWER/Hold button
– Left Mouse key
– Right Mouse key
– Comm manager key
– Resolution change key (1024*600/ 800*480)
– microPad Mouse pad-Notification
– 1 single-color (amber) LED for new message and notification
– 1 bi-color (green and blue) LED for WiFi and Bluetooth notification
– 1 single-color (green) LED for 3G & 2G network status
– 1 bi-color (green and red) LED for charging status & low power indicator
– 1 LED for HDD
– 1 single-color (green) for power status — Vista on & S3 status
– 1 single-color (green) LED for capital lock
– Notification with sound-Audio
– Built-in microphone
– Dual speakers-Device to Device Connectivity
– Bluetooth 2.0-Interface
– 1.8/3V USIM/SIM card slot
– SD/MMC card slot
– 1 USB 2.0 host
– D-sub VGA port
– Power jack
– External antenna connector
– 3.5Ø stereo audio jack with microphone-Power
– Battery: Removable and chargeable Lithium ion polymer battery, 2800mAh – AC adaptor
– AC input: 100~240V, 50/60Hz-Microsoft Windows Vista Business + Origami Pack
– Internet Explorer
– Windows Media Player 11
– Games
Source — Mobility Site