iPhone Idol – Apple iPhone official chosen Idol handset
Well you can't say Apple don't know how to advertise for now every time you tune into American Idol you'll probably get a glimpse of Apple's iPhone, and that's because American Idol has named the Apple as its major sponsor.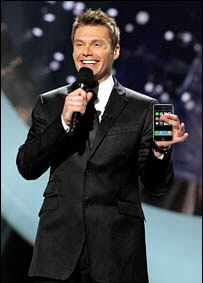 Now Idol songs are available from iTunes American Idol has named the iPhone as the official handset of the show. So a little product placement her, a little product placement there, maybe Ryan Seacrest blatantly displaying the iPhone for all to see, who knows?
Source — iphone.macworld