Apple iPhone v1.1.3 firmware now works with Ambrosia iToner
Ambrosia Software has updated its iToner ringtone maker to make it compatible with the iPhone's 1.1.3 firmware, and now brings an easy point-and-click ringtone upload to the users of v1.1.3 iPhone firmware.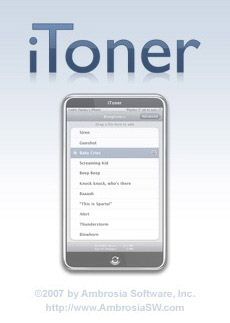 What's more is the updated version of the iToner software supports, Wav, MP4, MP3, and aif files along with more enhancements and fixes. The iToner even allows the user to drag-n-drop edited AAC and MP3 files so they synchronise with your Apple iPhone with a single touch of a button the user uploads the audio to store in the ringtone area of the iPhone.
Source — ambrosiasw