A Galaxi of mobiles launched by Asus
Asus has announced their latest line-up of Windows Mobile smartphones with the Lamborghini ZX1 for the high-end, the M930W Communicator, and for the mid-range Asus have the Galaxi Mini Asus P320. We focus mainly on the Galaxi Mini, or Asus P320 whichever you wish to call it.
The Galaxi Mini/Asus P320 has EDGE, but also quad-band GSM radio along with SiRF III GPS receiver. This Windows Mobile 6.1 handset has a 2.8 inch QVGA touch-screen, Bluetooth, a 2 megapixel camera, and of course a microSD slot.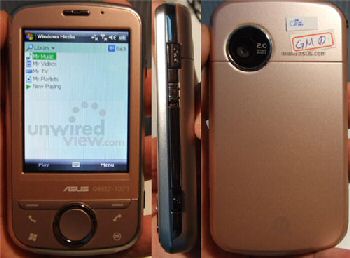 And remember the Galaxi Mini/Asus P320 is powered by Windows Mobile 6.1 Professional and is complete with manufacturer made tweaks plus add-ons to the UI. However, the P320 probably won't be carrying the Multi-Home 3D Cube interface that the Lamborghini carries then again the Galaxi Mini is a different class of mobile handset.
Set firmly in the lower scale of mobiles the Galaxi Mini/Asus P320 should be priced somewhere around 300Euros, and will have an expected launch date in Q2 08.
Source — unwired view