Charm your mobile with the Lightbulb Charm
Basically I can't really see the point of mobile phone charms, that little trinket dangling off the corner of your handset that gets caught up in your pocket. However, this one may be a little different; it actually fits well with a Sony Ericsson K850i, and is in the style of a light bulb.
The light bulb mobile handset charm only measures 3 x 1.6 x 1.6cms and uses 3 SR60 batteries, which are even included, and well yes, as you would expect this tiny blub flashes when you are in receipt of a call or text message, and it even flashes to let you know even when the handset it switched to silent.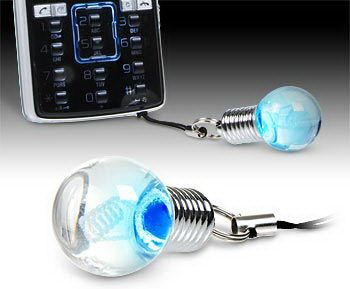 Fancy lighting up your life, well mobile phone anyway! If so the Lightbulb phone charm is available in blue or white from IwantOneOfThose with a price of £5.95 that's about $12.00 US
Source — coolest-gadgets