Nokia 6555 and Samsung SGH-E747 added by Fido
Yes in Canada, Fido has added two new mobile handsets to its mid-range collection, firstly the Nokia 6555 clamshell mobile handset with QVGA display, stereo Bluetooth, microSD expansion slot, 1.3 megapixel camera, and comes complete with Fido supplied 1GB microSD card in the box.
And the other mobile Fido added is the Samsung SGH-E747, a slider style handset with a 2 megapixel camera, although the Nokia has a better battery life than the Samsung as the Nokia has a 1020 mAh while the Samsung has an 880 mAh.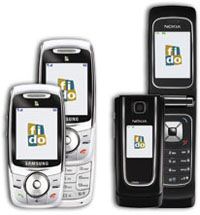 Fido has both handsets available on a 3 year agreement for $75.00 or on a 2 year agreement for $125.00, and lastly for either handset without any agreement you can get them for $300.00.
Source – mobileincanada