White Skype VoIP KX-WP800 from Panasonic with FON WiFi
Panasonic's latest Skype VoIP handset, the KX-WP800 carries a hefty price at £144 that's Â¥29,800, however the reason for this bumper price is because it incorporates software which enables it to connect to the FON WiFi network for free calling.
At the end of this month Panasonic's KX-WP800 mobile phone goes on sale in Japan; it's your pretty basic Skype mobile except for the FON application along with a dedicated mini WiFi router which creates the open FON hotspot.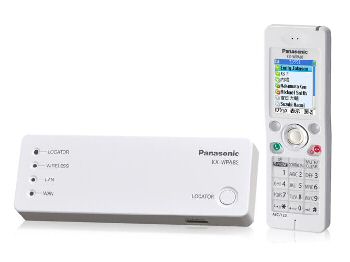 The KX-WP800's 802.11b/g router has been styled for people to take out and about who wish to spread FON around. Â The Spanish people who are behind FON definitely have their eye on Japan because there are in excess of 30,000 open WiFi connections on its network.
The KX-WP800 handset is pre-programmed to automatically connect onto any FON spot it finds, however it can still use a simple standard vanilla connection as well. The KX-WP800 has a battery life of 4.5 hours talk-time with 55 hours standby time, and only weighs 100grams.
Source — techradar