Apple iPhone SDK has painful limitations so it seems
Apple iPhone users abound were all suitably euphoric at realising the iPhone SDK is upon us, however Apple's draconian rule over all thing Apple have already set in. Apparently TechCrunch has a somewhat solid view of some of the, shall we say, downsides of being an Apple iPhone developer; they have a list which will take the fun expectation out of the countdown to June.
The list says third party applications can never run in the background on the iPhone, which means you can kiss goodbye to downloading an always-on IM client. To Quote Cupertino: "Users should not feel that leaving your iPhone application and returning to it later is any more difficult than switching among applications on a computer."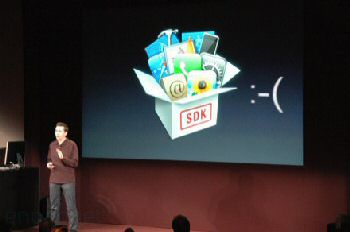 But aren't they simply forgetting one tiny thing? Users can run numerous applications all at once on their Macs can't they Apple? True they are probably suggesting that applications should be tech-smart to save and restore as they are ended and restarted, but that would certainly take more to simulate true task switching.
Source — TechCrunch