Liquid Lens To Be Manufactured by Seiko and Varioptics
Liquid lenses could be making a big splash in the world of the camera phone. 500,000 continuously variable liquid filled lenses for the market will be manufactured by Seiko and Varioptics and it will begin in the third quarter of the year.
As the lenses are liquid they are continually able to adjust focus without noise and barely using any power. This will open up a world where camera phones will last longer and be smaller.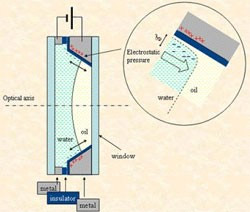 To read the full article on the liquid lens click here.