Shades of Black for the Sony Ericsson W380 clamshell
Is it me or do there seem to be loads of mobiles being re-released and announced in varying new colours? Maybe it's because some people like a certain handset but just can't stand the colour, I'm not sure.
Whatever, anyway, one such new announcement comes from Sony Ericsson about their sleek and stylish clamshell design W380 handset, and guess what, it's got a brand new colour called Tangerine Black which now joins the other in its class the Champagne Black.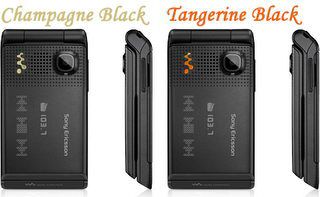 The colour is the only difference between both versions except for the tiny logs which come in orange and gold. Although technically I'd say this isn't actually a new colour but rather a ever so slight variation on an existing theme, but whatever floats your boat I guess.
Source — justamp