LG Vu on official carriers page with mention of two versions
AT&T is imminently launching the LG Vu superphone, and it has made it to the official page of carriers. If you take a glance at the page of TTY-compatible handsets, it lists the CU915 and CU920, which may confirm a rumour that's been going around over the last several months that the LG Vu will be available in two versions, seemingly one with MediaFLO and the other without.
This upcoming TV service will initially only be offered in a fraction of markets, those markets where AT&T offer their 3G service. So it is fairly obvious that maybe AT&T asked LG to come up with a similar version which can be touted elsewhere, maybe at the low-end point. Guess we'll just have to wait and see if two versions actually appear.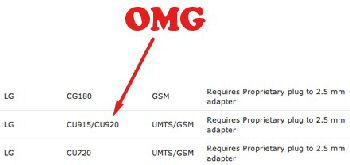 Source — wireless.att