Jet Black N82 launched by Nokia
Finnish manufacturer Nokia has unveiled its stylish N82 handset is stunning Jet Black. The mobile giant says: "This jet black edition brings a blend of state-of-the-art imaging, integrated navigation and high-speed internet connectivity to the Nseries range".
The "multimedia computer" N82 has the same photographic features as the original N82 and still with a 5 megapixel camera and Carl Ziess lens with Xenon flash. Another feature is that the Nokia N85 allows the user to "goetag" their captured images so they can be saved not only by the date they were taken but by also the location they were taken.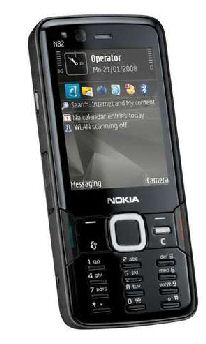 The N82 works with Nokia's "Sports Tracker" app which lets the user share their location and travel route on the Sports Tracker website. Sports Tracker is an activity tracker based on GPS and runs on Nokia smartphones, and gives information like distance, time and speed which are automatically stored within the application; these in turn can also be shared with others via the Sports Tracker website.
The Nokia N82 Jet Black has a pre-tax price figure at roughly £315 SIM free, and should be available for purchase during Q2 08.
Source — pocket-lint