Music search launched for Apple iPhone by One Llama
A new version of One Llama Media's music site has been launched for the Apple iPhone, which lets an iPhone user enter a song or band name and is then taken direct to the relevant YouTube video along with other related clips.
Amit Sudharshan, director of product development for One Llama Media says: "We have built this exciting application by integrating the One Llama music search technology with YouTube and Apple's iPhone using their published, open APIs. We have mapped our music database of over 1.4 million tracks to online music videos. Now users can not only discover new music, but also where available watch the full length video."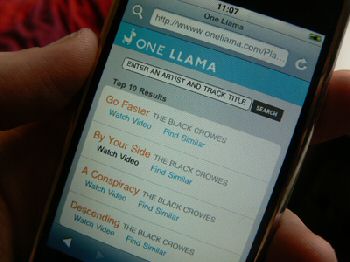 Apparently the web application works well, although why someone wouldn't simple open the YouTube application on their iPhone in the first place seems somewhat strange, but maybe all will become apparent as time goes by and One Llama Media adds further features to their website.
Source — onellama