Will the Motorola Z9 with AGPS connectivity be a phone contender?
News of the Motorola Z9 RAZR was leaked last July, but it has taken Motorola nearly a year to get it launched. No one is sure why but it now looks as if it's ready to be shipped.
The Z9 first appeared in a promotional video by Motorola which was headed for CITA, then they had the nod from FCC that they could bring the RAZR Z9 to the AT&T wireless network.
There was a promotional sales leaflet for the Z9 which appeared on the net, it was mainly just confirming the specs of the Motorola Z9 and these details below were included.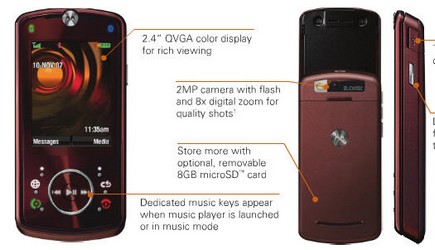 – GSM 850/19001800/1900, WCDMA 1900/850, 3.6 Mbps HSDPA
– 950 mAh battery with 210-240 min talk and 280-315 hrs standby time
– 2 megapixel camera with flash and 8 x digital zoom
– AGPS support
– 2.4″ 240×320px QVGA 262K color display
– 45 MB of built-in user memory
– Opera 8/WAP 2.0 browser
– USB 2.0
– Dimensions: 114×53.6×13.9
– Weight: 140 gr
The phone also has Windows Media 11 music manager and AGPS connectivity and the internal memory is 45MB and it will support a micro SD memory card up to 8GB and has Crystal Talk which is for better voice quality. However, it does only have a 2 mega pixel camera.