Wikipedia follows your Apple iPhone via GeoPedia
GeoPedia is basically a cool 3rd party native iPhone app, a location based Wikipedia interface on your iPhone. As long as you have iPhone's v1.1.3 and above Google Maps My Location feature the user can drag up their approximate location. However, it isn't GPS accurate, but can usually locate the place you happen to be. So with the ability to track one's general position it wasn't long before an app such as GeoPedia surfaced.
This unofficial Jailbreak 3rd party app uses your iPhone's positional data to drag up Wikipedia articles pertaining to your present location straight into the iPhone's screen, much like having your own personal Wikipedia tour-guide giving you hints into the interesting.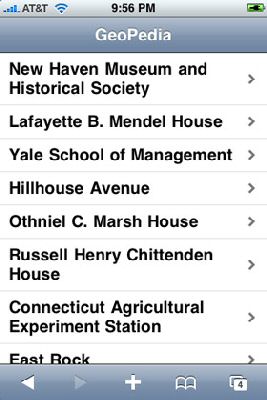 Source — iphonefaq