Apple iPhone going to Singapore SingTel in September
It seems with the negotiations between Apple and China at a stall, Apple is still trying to break into Asian markets. There are whispers circulating that Singapore's SingTel has gained a deal to bring the iPhone to Singapore in September, after previous reports that Apple were considering the possibility that Thailand should gain the iPhone.
As yet is isn't too clear if SingTel has actually agreed to Apple's revenue sharing model, which is the main source of contention with China Mobile. One of the problems is there are already an estimated 10,000 unlocked iPhones being used in Singapore, which makes it difficult for Apple to ensure iPhone exclusivity to Singaporean or Asian carriers.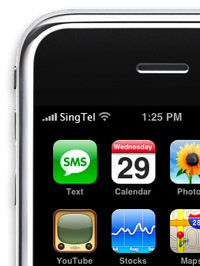 Apple has sought legal recourse to stop resellers in an effort to stem the flow of unlocked iPhones, so maybe this was enough to convince SingTel that there is a reasonable level of exclusivity with the iPhone. The Apple iPhone handset is due to hit SingTel's Network in September with an approximate price of $690.
Source — todayonline