Raging Bull Lamborghini Bluetooth headset
It was only a matter of time before we saw the hit the streets, after the Asus ZX1 Lamborghini mobile handset it's natural for matching accessories to come sooner or later, here we have one in the form of a Bluetooth headset.
No Asus branding on this little fella apparently, rather is being sold under the Tonino Lamborghini umbrella, which the company uses for its leather goods and watches. Rumour has it that Ferruccio Lamborghini's son Tonino had a hand in the design and provided some input.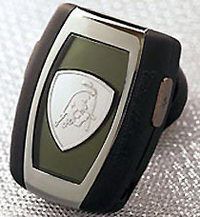 And as for the Lamborghini Bluetooth headset's spec's how about 160 hours standby time with 6 hours talk-time. Nothing as yet on if it has special noise reduction tech, but most info is patch at this early stage; what we do have though is the price tag…$70.00 so not too bag for taking the raging bull by the horns is it.
Source — autoblog