BlackBerry Pearl 8120 coming to T-Mobile on April 14th
We knew April for T-Mobile would be full of surprises and it seems that April 14th is a good day for them; T-Mobile subscribers will be able to gain access to the BlackBerry Pearl 8120 WiFi smartphone.
Oh yes WiFi people thanks to T-Mobiles HotSpot @Home service, the phone will also have stereo Bluetooth, 2 megapixel camera, SureType keyboard, EDGE data, microSD / SDHC expansion and , 3.5-mm headphone jack. Hey just one more thing and this goes out to T-Mobile "Give us a price please, how much?).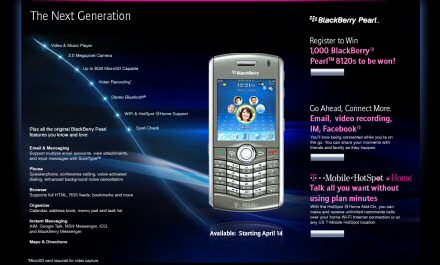 Source – Full Press Release via BlackBerry