CTIA Las Vegas: Samsung F110 Adidas Fitness mobile live
Samsung showcased their F110 Adidas Fitness mobile handset at CTIA in Las Vegas, and this mobile phone seems to have been put together quite nicely with no play or wiggle, but more a solid piece of Samsung technology and craftsmanship.
And as the name intimates, The Samsung F110 Adidas Fitness will keep you from slacking in your daily workout by letting you know you're not doing enough or too much.. It has a pedometer along with an exterior heart rate monitor so you can keep in tune with your handset's verbal and visual workout cues.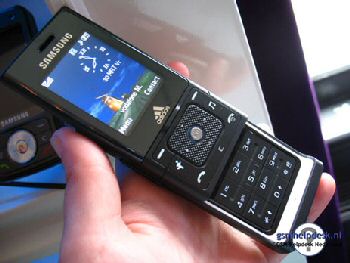 The Samsung F110's miCoach software keeps track of the user's heart rate while a feminine voice counts out the miles walked or jogged and also give a calorific count during your workout. Reminiscent of a Nike+iPod app but the verbal prompts being more comprehensive.
So fitness fans keep your eye out for the Samsung F110 Adidas Fitness becoming available in the near future; as yet the price tag hasn't been revealed.
Source — intomobile