CTIA sees first smartphones from Velocity Mobile
A new player has entered the mobile handset smartphone arena; Velocity Mobile came about by the collaboration of notebook computer manufacturers Inventec and a team of wireless engineers and designers. Velocity presented its first ever devices, the Velocity 103 and Velocity 111 at CTIA in Las Vegas.
So here's a few specs on this new mobile player, both Velocity 111 and 103 run on Windows Mobile 6.1, features GPS, Bluetooth 2.0, WiFi, TV/VGA out, 256MB ROM and 128MB RAM, HSDPA/HSUPA, two cameras and microSD expansion slot, and each with a touch-screen and full QWERTY keyboard.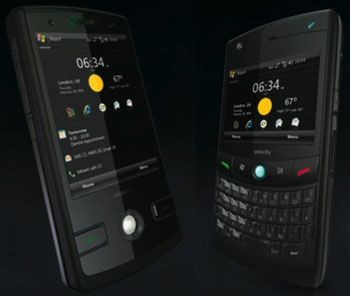 The Velocity103 should be available sometime Q8 white the Velocity111 should follow in Q3. The difference between the 103 and 111 is that the 103 comes with VGA while the 111 is QVGA touch-screen along with QWERTY keyboard and BlackBerry-ish style
Source — prnewswire