Motorola MOTOROKR EQ3 Compact Foldable Speakers: Mobile Phone Fun
Welcome to the MOTOROKR EQ3 Compact Foldable Speakers which will bring your mobile phone back to life, the MOTOROKR EQ3 is a folding speaker which is highly portable and is the newest addition to Motorola's music focused ROKR series.
The MOTOROKR EQ3 apparently (and we say apparently because we have not had our hands on it yet to judge) offers you the chance to turn your mobile phone into one hell of a stereo experience with rich sound all from one compact design.
We like to call it mobile phone fun because when you can turn mobile phone built in speakers into quality sound then we are up for that, the EQ3 is just perfect for mobile devices because it is lightweight and has a cool foldable design.
It is powered by four AAA batteries which are included and will keep banging out the music for a cool 12 hours (Now that is some party); it has a universal 3.5mm plug which stores conveniently in the speaker.
It also has an extension cable that is optimized for FM radio to give you pure and clear reception when connected to radio devices.
The ROKR EQ3 is expected to become available in Q2 2008. For more information regarding pricing and product availability in your region, please contact your local Motorola representative.
The Images –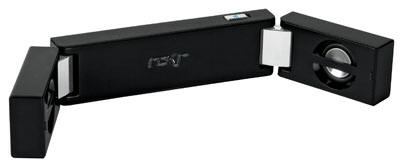 Source – Motorola