Nokia N95 black from the Carphone Warehouse
Here we have the superb Nokia N95 Black 8GB referred to as the ultimate multimedia computer. The N95 is a 3G slider style handset, slide the display up to reveal its keypad where all operations can be accessed, and as the Nokia N95 has HSDPA compatibility you'll get ultra fast data services.
You will find the N95 has a 5 megapixel camera complete with Carl Zeiss optics which will bring you outstanding quality in image and video which you can view on the N95's quality display, or if preferred link the Nokia N95 to your TV to view.
The N95 also incorporates GPS so you can explore, find locations, routes, locale essential services. There's WiFi as well and operating on the Symbian S60 system. You find it has a music and video player and a standard 3.5 jack for headphone use.
The Carphone Warehouse has the Nokia N95 on the O2 Network offering a tariff of O2 – £35 — 18 months, 600 minutes and 500 texts per month, One month's FREE insurance, FREE Voicemail, and a FREE Nokia N95 Black handset.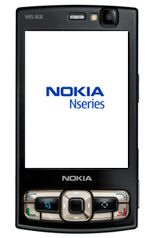 – WAP
– Bluetooth
– Faster data with GPRS
– FM Radio
– Camera phone
– Music player
– Polyphonic ringtones
– Colour screen
– Voice dialling
– Vibrating alert
– World phone (Quad-band)
– Speakerphone
– Picture messaging
– 3G
To view further information or to purchase the Nokia N95 black please visit the Carphone Warehouse