Super Hero Iron Man handset in 18K gold by LG
A great way to endorse a mobile handset is to splash a super hero clasping that mobile in his gloved hand. From the beginning of May The Iron Man staring Robert Downey Jr and Gwyneth Paltrow hits the silver screens worldwide and mobile fans can now take their seat and while munching on their popcorn spot LG phone models.
Billionaire industrialist Tony Stark, who happens to have a double identity is rumoured to use a VX9400 TV mobile o inform the leading lady about his dealings with the baddies that day. However, fans will have the opportunity to gain their own LG fit for a fighter, an 18K Gold Iron Man mobile handset.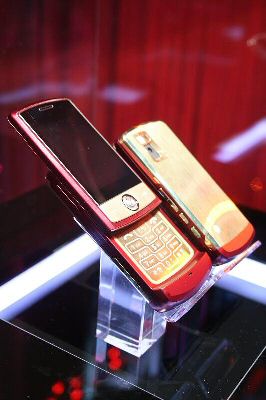 This extremely expensive one-off edition of the LG Shine is on display at CTIA 08 and guarded by none other than Iron Man himself. Well not really, actually it's Iron Man's gold titanium alloy costume.
LG is to launch a new website named Insidethesuit on April 15th where you can enter for the change to win one of the phones and access exclusive movie content, and behind-the-scenes footage.
Source — gizmodo