Symbian SMS Manager released by Oxygen Software
Oxygen Software, the people behind the popular OxyCube and Oxygen Phone Manager apps has released new software called Symbian SMS manager. This new software lets users manage SMS and other messages on PC as "easily and conveniently as they do it with email messages."
Symbian SMS Manager provides quick and easy access to Outbox, Inbox, Sent, Drafts, My folders and Mailbox folders content. This program displays basic types of SMS, MMS, E-mail, Beamed, BIO (Picture message, Operator Logo, Ringing tone, WAP access point), and also displays file attaches for MMS, E-mail and Beamed messages.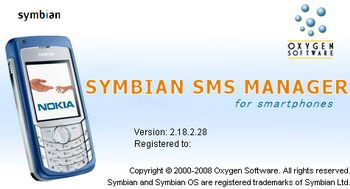 Furthermore users can enter and store message in any language, save messages in a file on PC and then download it back into the program and phone when it's needed, export messages in various files: CSV, RTF, PDF, TXT, HTML, etc, and create and send both plain and Unicode SMS messages to individual recipients as well as to contact groups.
Symbian SMS Manager works with Server 2003, XP, Vista, and Microsoft Windows 2000 OS along with Symbian OS powered mobile handsets, and will set you back only 24.95 EUR.
Source — oxygensoftware