Mobile website to link with handsets launched by Parrot
Parrot, the leading Bluetooth accessory manufacturer has just launched their new website for mobile handset users. Why it has taken Parrot so long to achieve this is anyone's guess, but it's live now.
Apparently, users and buyers can obtain "all thing Parrot" at the new website, and includes products such as latest news, data sheets, photo sheets, a list or retailers who happen to carry products by Parrot, along with all relevant contact information and addresses for Parrot and its subsidiaries.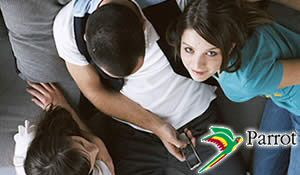 Through partnership with vpod.tv, Parrot users will be able to stream video and download content in 3GPP format. Parrot mobile has optimised the website to work in conjunction with the majority of latest handsets and is available to access via mobile.parrot.com or m.parrot.com
Source — intomobile