The WEP430 Bluetooth headset from Samsung
Recently launched is the WEP430 headset in Orange by Samsung, a Bluetooth headset with an innovative design. The WEP430 incorporates noise reduction tech combined with echo cancellation white the headset is ergonomic in its stylish design.
Samsung has made the WEP430 easy to wear and being water and sweat resistant; an ideal headset for those that do not wish to use an ear bud or ear hook style. It is slim and lightweight and thus belongs in the Samsung Slim Series.
The WEP430 offers up to 130 hrs standby and 5 hrs talk-time whilst weighing only 15.3 grams. Inside the package there is a manual and travel adapter, and the WEP430 is compatible with all Samsung mobile handsets, and non-Samsun via Bluetooth support.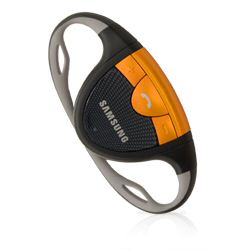 Source — mobilewhack