Childrens Cancer Foundation Benefits from HTC designs
Having designers spruce up your mobile handset then flogging them off to the highest bidder is a great way to raise cash for your chosen charity, and now HTC over in Singapore are doing just that. HTC has signed top fashion designer Nic Wong to come up with four unique one-of-a-kind designs for their Touch.
These four specially designed HTC Touch's are being auctioned on eBay's Singapore outpost. Although the specs still remain the same, these handsets are originals, so no fear of seeing another hanging around on your travels. And the best bit is all proceeds from the auction will go to the Children's Cancer Foundation, a most noteworthy cause indeed. So if you fancy a piece of mobile art, and helping out the Children's Cancer Foundation, get a move on because bidding ends on April 19th.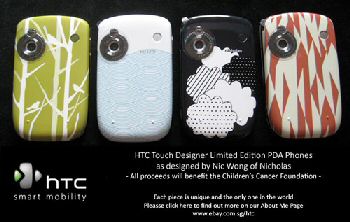 Source — slashphone