Nokia NFC enabled handset the Nokia 6212 Classic
The Nokia 6212 Classic has been announced as Nokia's latest NFC enabled mobile handset. NFC, which means Near Field Communication is the next-gen in mobile connectivity, although still Bluetooth based NFC allows seamless sharing of content, the user can use their handset as an electronic travel ticket, or even pay bills. Thought NFC sounds exciting it will probably sometime before the technology gains wide support. And the Nokia 6212 Classic isn't the first Nokia handset to see NFC technology as Nokia put out an NFC version of the Nokia 6131 last year.
Other than the NFC feature the Nokia6212 Classic has quad-band GSM/GPRS/EDGE connectivity along with dual-band UMTS support. You'll find it has a 2 inch QVGA TFT display similar to the Nokia 6500 Classic whereas unlike the Nokia 6500 the Nokia 6212 weighs only 88 grams.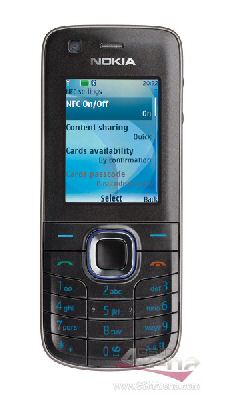 More in the Nokia 6212 is miniUSB port, up to 4GB memory card slot, FM radio, a 2 megapixel camera, and stereo Bluetooth, and all run on the Nokia S40 OS. The Nokia 6212 Classic NFC should be available in Q3 08 for roughly 200 Euros prior to subsidies and taxes.
Source — gsmarena