EGP-WP98 Watch-phone on Windows CE 5.0
For those of you who don't like to carry a mobile handset, or can easily afford to shell out $629.95 on a mobile phone this may be an alternative. The EGP-WP98 has been said to be the first watch-phone to incorporate quad-band GSM and come installed with Windows CE 5.0.
The EGP-WP98 Watch-phone is supposed to be water resistant, has a 1.45 display, a 266MHz CPU, handwriting recognition software, and probably a SIM card slot,. That being said, specifications may be "subject to change" which doesn't sound too promising.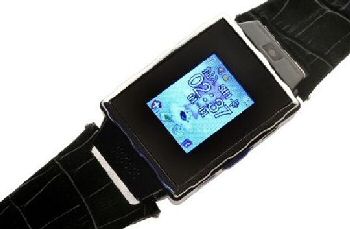 But looking on the bright side the specs could add WiFi, T-Flash expansion slot, 1.3 megapixel camera, built in Bluetooth and multimedia player. Rumour has it that the EGP-WP98 Watch-phone will be available come 25th April. Will anyone actually purchase a mobile handset/watch I'm not too sure, Mr Bond, probably, Mr Average, probably not; only time will tell I guess.
Source — Unwired View