Vuzix iWear AV920 3D headsets coming to all 3UK customers: £199.95
All 3UK customers will have the opportunity of getting their hands on the superb Vuzix iWear AV920 3D headsets this month for £199.95.
The Vuzix iWear AV920 3D headsets which you wear like glasses will give you the equivalent of a 62-inch screen; they have headphones built in to give you awesome sound.
You can basically connect these headsets to basically any device that can play video like you mobile phone, you can use this with the Nokia N95 for example. You will get approx 5 hours of viewing time from one single charge.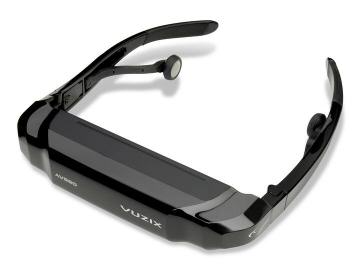 We are emailing people right now to get our hands on the Vuzix iWear AV920 3D headset and when we do finally get one, we will give you a complete hands on review.
The features include 920,000 pixel technology gives the same experience as watching a 62 inch screen, Integrated rechargeable lithium ion battery gives approximately six hours of continuous viewing, Detachable speakers let you use your own headphones, Adjustable precision focus for super-sharp pictures every time, Advanced military grade optical technology, AccuTilt™ viewer pivots up to 15 degrees for comfortable viewing angle and iWear® 3D enabled for automatic 2D/3D control.
The tech specs include Twin high-resolution 640×480 (920,000 pixels) LCD displays, 24-bit true colour (16 million colours) with 60Hz progressive scan, 3/4″ eye relief and 5/16″ eye box, Equivalent to a 62″ screen viewed at 9 feet, 2.5″ intraocular distance (IOD), 32-degree field of view and Colour corrected 10th order aspherical lens with diffractive surface.