Elektrobit wants to release their Satellite handset by 09
A Windows Mobile handset is really cool when it rocks on both GSM and TerreStar's networks. Elektrobit continues to work on bringing their satellite handset to the mobile market by 2009, and it looks as if it will definitely impress too.
The Elektrobit satellite handset runs on Windows Mobile 6.1, and has HSDPA data connection and GSM radio so will be able to compete with most standard mobile phones. Their latest device will feature a 3 megapixel camera, Bluetooth, GPS, WiFi, support for TerreStar's network and the usual standard microSD expansion slot.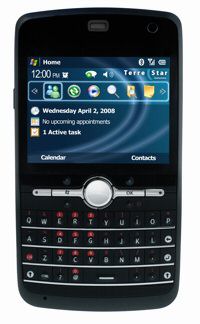 Apparently TerreStar plans on launching their satellite network quite soon, and maybe Elektrobit will launch their satellite phone shortly after, although don't expect too much of a price bargain as it will probably be "competitive" apparently, whatever that may mean; does leave a broad scope for pricing though.
Source — BGR