Z780 and G502 handsets launched as Sony Ericsson profits fall
Hoping to distract their investors away from the rather embarrassing 48% plunge in profits, as compared to Q1 of last year, Sony Ericsson has announced two new mid-range offerings to lighten the load I guess.
The Z780 clamshell design handset is now official and the global sister of the Z770 handset for Europe. This being the case, the Z780 features HSDPA/UMTS 850/1900/2100 along with quad-band EDGE/GPRS/GSM radios; you'll also find there is aGPS navigation and Google Maps for Mobile, although the tiny 128 x 160 pixel unknown size display screen does tend to let it down.
On to the G502 which is a candy-bar design and also features Google Maps but drops the aGPS, nothing for the Americans to worry about though as the G502 stays firmly in Europe, and comes with GSM/EDGE/GPRS 900/1800/1900, and HSDPA/UMTS 2100 radios.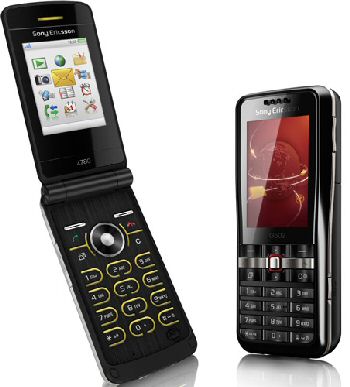 Both Sony Ericsson handsets feature a 2 megapixel camera, Bluetooth and M2 memory expansion when they are finally launched sometime in Q2. With these two new handset offerings I can't see Sony Ericsson's investors being distracted for too long though.
An update: Seems Sony Ericsson published conflicting info concerning the Z780's resolution; apparently the correct info is: 2.2 inch and 320 x 240 pixels.
Source – engadgetmobile
Full Press Release
Sony Ericsson widens reach with its most affordable HSDPA phone yet and a stylish clamshell with global appeal
23 April 2008
London, UK — 23 April 2008. – Sony Ericsson today introduced two new HSDPA phones into its line-up; each clearly designed to take its range web-enabled phones in a different direction, The Z780 expands the company's range of devices for markets outside of Europe and the compact G502 brings the power of the web to a mainstream audience.
"These two phones are quite distinct, yet both have the potential to introduce more users to the world of web on your mobile," said Martin Winkler, director of global marketing and head of multimedia web at Sony Ericsson. "Being able to check your email whenever you like or surf the web when on-the-move should not just be the preserve of professionals. The Z780 and the G502 will appeal to anyone juggling a busy life".
The Z780, a sister product to the recently announced Z770, is set to broaden the range of web-enabled phones into more markets across the globe. It packs tri-band 3G and HSDPA into its stylish clamshell frame, letting you receive email or browse the web at high speed in countries across the world. It also introduces built-in aGPS, giving users the opportunity to carry their navigation solution with them on their phone.
The new G502 is the latest in an established line of classic Sony Ericsson phones that cram a wealth of time-saving features into an affordable, pocket-sized phone.
The G502 is the first such model, however, to feature high-speed HSDPA capability. This means that more users can now benefit from faster browsing and downloading capabilities in a phone that has a feature-set that is impressive and incredibly easy to use — perfect for those who want to stay in control of their lives.
In touch, on the move
Both the Z780 and the G502 come with the latest version of Googleâ"¢ Maps for Mobile. This application allows you to view high quality maps that give you a satellite view of the local area and view listings of the restaurants and hotels, complete with any reviews or ratings available. The built-in aGPS functionality of the Z780 means that wherever you are, you'll always be able to find what you need — whether locating the address of your friend's party or finding the quickest route to your next meeting. Googleâ"¢ Maps for Mobile then enables you to receive turn-by-turn directions that help you to find your way without complication.
With the G502, you just enter start and finish locations, and receive point-by-point directions of how to get to your destination. Plugging the GPS Enabler HGE-100 accessory into the phone adds GPS capability here as well, making sure that you need never get lost again.
Easy email, simple setup
Accessing your emails on the Z780 and the G502 couldn't be more straightforward. An easy-to-follow 'set-up wizard' guides you through a series of very easy steps so that your existing webmail account can be directed to your phone. Or if it is push email that you need, then the G502 and Z780 also support Exchange ActiveSync® for your security and complete mobility.
What you want, when you want it
Accessing your favourite websites is now four times faster than with standard 3G (UMTS), thanks to the HSDPA speeds of the Z780 and the G502. If you use one particular website more than others, you can select an RSS (Really Simple Syndication) feed that will give you 1-click access directly to this page from your phone's desktop. What's more, the pre-loaded weather forecast application on both of these phones allows you to check the weather before you head out, so you're sure to be prepared for any unexpected rainstorms.
The Z780 is a UMTS/HSDPA 850/1900/2100 and GSM/GPRS/EDGE 850/900/1800/1900 phone that will be available in Grand Onyx and Amethyst Silver in selected markets from Q2 2008.
The G502 is a UMTS/HSDPA 2100 and GSM/GPRS/EDGE 900/1800/1900 phone that will be available in Champagne Black and Brilliant Hazel in selected markets from Q2 2008.
Legal
1) Facts and features may vary depending on local variant.
2) Talk and standby times are affected by network preferences, type of SIM card, connected accessories and various activities e.g. games. Kit contents and colour options may differ from market to market. The full range of accessories may not be available in every market.
© Sony Ericsson Mobile Communications AB, 2007.
The liquid identity logo, TrackID and PlayNow are trademarks or registered trademarks of Sony Ericsson Mobile Communications AB. Sony, Memory Stick Micro and M2 are trademarks or registered trademarks of Sony Corporation. Ericsson is the trademark or registered trademark of Telefonaktiebolaget LM Ericsson.
TrackID is powered by Gracenote Mobile MusicID. Gracenote and Gracenote Mobile MusicID are trademarks of Gracenote, Inc.
Bluetooth is a trademark or registered trademark of Bluetooth SIG Inc.
Google is a trademark or registered trademark of Google Inc.
Java and all Java-based trademarks and logos are trademarks or registered trademarks of Sun Microsystems, Inc.
Other product and company names mentioned herein may be the trademarks of their respective owners.
Any rights not expressly granted herein are reserved. Subject to change without prior notice.
Sony Ericsson Mobile Communications was established as a 50:50 joint venture by Sony and Ericsson in October 2001, with global corporate functions located in London. The company serves the worldwide communications market with innovative and feature-rich mobile phones, accessories and PC-cards, and it has R&D sites in Europe, Japan, China, India and America. Sony Ericsson is the title sponsor of the Women's Tennis Association, and works with the Association to promote the Sony Ericsson WTA Tour in over 80 cities during the year.