Qualcomm helps with half a dozen Android mobiles
No one is sure of the extent of the hardware onslaught we'll be seeing once the Android software spec hardens, but what can be safely said is at least six android based mobile handsets will e appearing over the next 18 months or so.
How can we be sure of this? Well that is the number quoted by a Qualcomm product manager is giving as the number of Android based devices Qualcomm is personally helping OEMs prepare over the next 18month time period. His actual words were "more than five" and this would make sense if you consider the push Qualcomm gave the Android platform at CTIA earlier.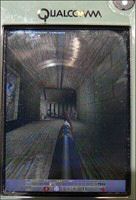 The Qualcomm guy was also eager to note that Android based handsets will bring feature sets similar to that of the Apple iPhone but with a lower price scale. He added that Google has already thought through a bundle of goodies that Apple is just beginning to place on their iPhone, he was probably hinting at the SDK .
Source — talkandroid