LG: Rally for Music contest launched
Korean giant mobile phone manufacturer LG is launching another mobile contest, this time it's the LG: Rally for Music, and is a contest which aims to connect, motivate and inspire the younger generation and hopefully allow undiscovered musicians to have their talent shine and be noticed.
With the LG: Rally for Music contest musicians and music fans can create personal profiles, converse over shared musical interests, enter and with a bit of luck win valuable prizes that are on offer. Register and you may have the chance to gain a chance to shine bright via a video based performance contest, or you can enter monthly sweepstakes to gain a chance of winning superb prizes like the latest in mobile handsets, MP3 player, and LG high definition TV's.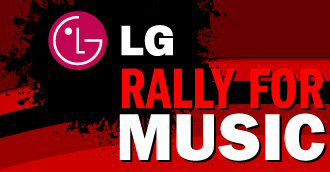 Registered musicians can upload their video performances for the opportunity to be reviewed and rated by their peers, whit the top four entrants gathering for a live contest held in August 08 in New York,hansets City which will determine the overall winner. Music fans can listen to the event which is being broadcast live on www.rallyformusic.com. Entrance will then gain the opportunity to vote online for their favourite with a grand prize of $15,000 being awarded to the musical artist who gleans the most votes.
So basically its LG's idea to promote LG's music focused mobile handsets along the lines of Nokia Recommenders but remain distinctive due to the social aspect. For full information and contest rules go to Rally for Music