Promise of best mobile tennis experience with Gamelofts Wimbledon 2008
Still one of the hottest mobile sports games around is Tennis Open 2007 from Gameloft, and Gameloft has announced that it is to deliver the official Wimbledon 2008 mobile game in time to coincide with the Grand Slam Tournament.
Wimbledon 2008 game is to feature singles and doubles modes played on grass, synthetic surfaces and clay along with five mini-games for training which have been designed to develop the gamers ground-strokes, serves and volleys.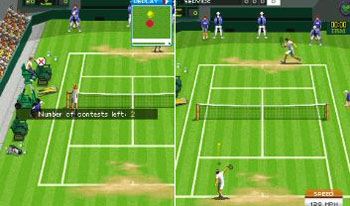 Furthermore, Wimbledon 2008 is to include an extra Wimbledon Championships history section, where the gamer will be able to locate interesting knowledge from previous tournaments, and allow them to test their own knowledge, all thanks to the official tournament license.
If you enjoy watching or playing tennis grab hold of Gameloft's Wimbledon 2008 as soon as it becomes available.
Source — pocketgamer