30 Rock and The Office full episodes available for Apple iPhone from NBC
Media company NBC is offering full version episodes of The Office and 30 Rock to the Apple iPhone and Apple iPod Touch. As with most companies NBC are of course concerned about their content being stolen, however now with some restrictions they seem to be doing something right.
The full NBC versions of 30 Rock and The Office are ad free and 100% free. Free ad supported is usually cool but this is somewhat strange. No DRM involved either even though restrictions are in place, whenever you leave your Safari the user will need to download the episode again.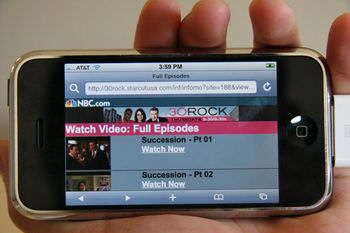 Forget EDGE, this thing is WiFi and then you had better have a great connection and enough time to spare of course. Not quite sure of NBC's strategy with this one, I mean like one the one hand they are against Apple, and then all of a sudden now supplying the Apple iPhone with episodes; still it's the Apple mobile phone users they gain so has to be a good thing.
Source — gizmodo