RIM shares rise thanks to unveiling of BlackBerry Bold
The unveiling of the BlackBerry Bold mobile phone on Monday, the first new major BlackBerry for over a year seems to have had a desirable effect on Research In Motion shares, as shares rose to an all-time high.
Apparently shares of Waterloo, Ontario based Research In Motion rose by 6.9 percent or $9.20 up to £141.97 with earlier shares even trading higher at $143.08. On Monday, RIM said the dual-band WiFi and GPS BlackBerry Bold will be available from carriers this summer, while AT&T Inc stated on Monday that they will be the BlackBerry Bold's exclusive carrier in the US as its 3G network is the only stateside network that will be compatible with the first model of handsets.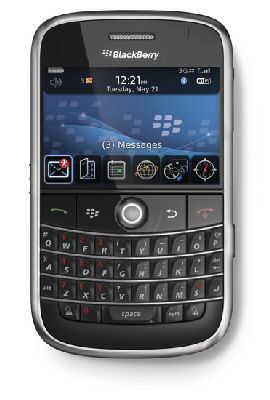 Another announcement made on Monday was that RIM, Thomson Reuters PLC and Royal Bank of Canada stated that they will be investing $150 million into a venture capital fund which will invest in companies that make software for the BlackBerry mobile phone and other devices.
Jim Suva, Citi Investment Research analyst said in a client note that the announcemtn of the Bold came earlier than expected, and he predicts the mobile phone, which he believes will appeal to business users, could raise RIM's quarterly shipments by 200,000 to 400,000. Jim Suva also rates the stock "Buy" with a $140 price tag also believes because the BlackBerry Bold is 3G which is popular outside the States will also benefit Research In Motion's international growth.
Mike Abramsky, RBC Capital Markets analyst said the Bold's advantage over earlier BlackBerry's includes its "faster user experience, speedy mobile browsing (pages launch in 2-3 seconds), new 3G features (video capture/playback, web video playback), surprisingly bright/crisp display, and updated user interface/desktop." Abramsky rates the BlackBerry Bold stock "Outperform."
Source — moneycentral