Blackberry Thunder 9500 full touchscreen surely an iPhone killer
This is what you have all been waiting for, the all new Blackberry Thunder or model name Blackberry 9500 as it is known. This is a stunning BlackBerry mobile with full touchscreen and with only 4 physical keys.
So is the BlackBerry Thunder an Apple iPhone Killer? The Thunder/9500 is BlackBerry's first ever mobile phone with full touch screen where it has been said to be a piece of mobile perfection and quality, this all new handset will be part of the leading wireless carriers n Europe and America, apparently being exclusive on Verizon Wireless in the States and Vodafone in Europe.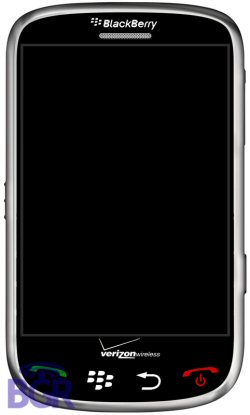 For some reason I am singing the Queen song with thunder, bolts and lightning but hey I am mad, strange how a phone name can make you think of a song maybe I need help, anyway back to the phone. The information on specifications are pretty slim at the moment but we will give you what we already know, well in fact what Boy Genius Report knows, so far the features include Full Touch Screen, 4 Simple Keys (send, end, menu, and back), Hybrid device supporting many carrier technologies, Available exclusively on Vodafone in Europe, Available exclusively on Verizon Wireless in the United States.
Just so everyone knows it does not have slide out keyboard, the handset will apparently be an hybrid device with CDMA EV-DO Rev. C (for clarification, Rev C., known as UMB is practically dead, be good to see if this handset will launch with a 4G solution but as BGR say it will probably be on LTE and GSM HSPA. Oh just so you know the picture above is not real, the picture is for illustration purposes, information is slim as so are the photos.
But please do sign up to the Phones Review Newsletter where you will be updated on any latest news.
Source – BGR