Hand Phone concept for those who use mobile phones for talk only
Italian industrial designer Biodomotica has designed a hand phone concept for those people who only use their mobile device for talking, and manufacturers are looking interested. The concept of a hand phone specifically for speech isn't exactly a unique idea but it could be quite useful.
Looking at this concept there is some small screen along with several buttons which may hint at possible texting, although it would be somewhat uneasy to accomplish. The other problem that immediately jumps to mind is getting used to having the device permanently on your hand, then this would probably result in the user using the mobile phone as it was originally intended as a means of speaking with someone.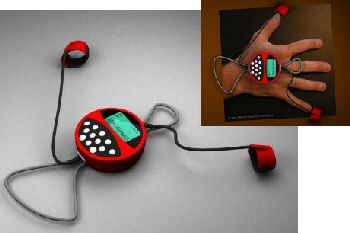 Source — textually