Facebook App launched to help users gain minutes by Virgin Mobile
Seems like Virgin Mobile have come up with a new twist on mobile advertising and social networking as Virgin Mobile is to launch a Facebook app which will give their customers who are members of their Sugar Mama advertising program, a way of earning up to 75 free voice minutes per month.
Up until recently the Sugar Mama program gave its users free minutes when they viewed a commercial and replied to a short survey online, however the "Fund My Phone" Facebook application now also earns members minutes if they get their friends to watch adds also, this way allows Virgin to expand their audience without the need to sign up further subscribers to the Sugar Mama program.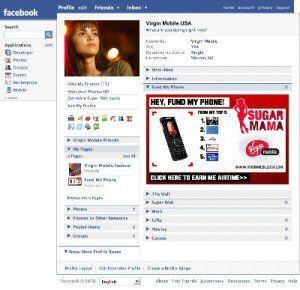 Roughly 700,000 of Virgin's 5,000,000 subscribers are currently signed to the Sugar Mama program, and it works like this: A subscriber to Virgin adds the Facebook application on their profile page where it can be viewed by friends. This application encourages them to watch commercials to help them pay for their wireless phone. When a friend clicks the app, a Sugar Mama ad or other content begins showing so they can watch and rate.
Advertisers with the Sugar Mama program include the likes of Diet Pepsi, Subway, Xbox, U.S. Navy, Sony Music, and Sony Pictures (NYSE:SNE). Subscribers earn 6 minutes of airtime as soon as the first four views by Facebook friends have been credited, and after that a subscriber gains one minute airtime for every four ad views by their Facebook friends. So far Virgin has given away 26,000,000 free airtime minutes since the Sugar Mama Program was launched back in 2006.
Source — washingtonpost