Motorola girlies up their Motorola RAZR2 mobile phone with pinkness
Not one really for the butch type guys out there in mobile phone land, and personally I don't think I'll be rushing out to grab hold of the Motorola RAZR2 clamshell anytime soon. However if you happen to find yourself floating about Korea, and maybe on the lookout for a girly type mobile phone for your girlfriend or spouse, you can get hold of this girl-power cuteness inspired rendering of Motorola's flagship clamshell design mobile handset in the form of the Motorola RAZR2 Pink Silver. How sweet looking!
According to the Managing Director of Motorola Korea, Lim Joung Ah, he states: "With its luxurious yet tranquil look and carefully-selected features, the RAZR2 Pink Silver was designed to appeal to the confident young generation." I'm sure everyone at Motorola is hoping Lim Joung Ah has it right with this one.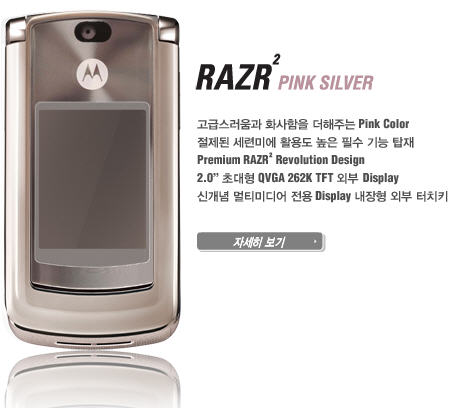 Previously there has been news concerning a Motorola RAZR2 V9 Ferrari Edition maybe being in the works, however, this one is different though, so here's a bit of spec-wise on the RAZR2 Pink Silver for you to ponder.
The Motorola RAZR2 Pink Silver has, as one would guess, a girly pink casing with an espresso coloured keypad that when stylishly paired with the mobile phone's cool metallic silver trim gives it the appearance of a high-end designer fashion phone. The RAZR2 Pink Silver still sports the RAZR large 2 inch external LCD display screen, Bluetooth 2.0, built in camera and USB connectivity, as most Motorola RAZR mobiles do.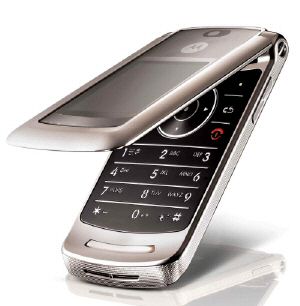 As yet the pricing for the Motorola RAZR2 Pink Silver is a mystery; however should you wish to own one or gain one as a gift for your girl, SK Telecom will be offering it all over the place, well in Korea that is of course.
Source — Telecoms Korea via Unwired View