Projectors in Mobiles promised by years-end from Texas Instruments
Mobile space is about to enter the world of Pico Projectors which will bring the convenience of projector technology to the mobile phone industry. The advancement on miniaturisation can now allow projectors to be scaled down in size to fit comfortable inside a mobile phone. Which means it shouldn't be too long before we can all begin projecting our most embarrassing images and videos across any wall from our mobile phone.
What makes this prospect of mobile Pico Projectors a more solid notion is the senior vice president of Texas Instruments (TI); John Van Scoter, speaking in Taipei at a Texas Instruments forum on May 14th has confirmed that those mobile handset which feature Texas Instrument's projector tech will hit the market with Pico Projectors onboard sometime later this year which will mirror other Pico projector manufacturers.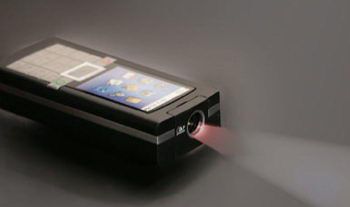 Yes, so that means before the year is out, we should be seeing a few mobile phone manufacturers shoving Texas Instrument's tiny projectors inside their mobile phones coming onto the market, and probably bumping up the price to suit. Providing things go great for the Pico projector market, Texas Instruments expects to begin seeing the popularity of projectors within mobile phones to rival that of the camera in mobile handsets within five to ten years time.
Recently, well back in February, Texas Instruments unveiled their DLP Pico technology, which stands for "Digital Light Processing" with a view to bring the vivid colours and sharp images of DLP displays into the Mobile world.
So there you have it, with any luck we just may be able to get hold of a projector mobile phone in time for the holiday season, and have some fun with the projector while drunk at some continental bar!! Don't embarrass yourself too much though.
Source — unwiredview