Orange offering Apple iPhone in 10 countries: Confirmed expected coverage
Orange have pushed the boat out and have announced that they will be offering the Apple iPhone in more than ten countries later this year, the ten countries that will be included are Belgium, Dominican Republic, Austria, Poland, Portugal, Egypt, Romania, Slovakia, Jordan, Switzerland and African markets.
So Orange and Vodafone offering the same thing basically but what we like is the fact Orange announced this is one little sentence, so to me it seems that the Orange PR team outdo them since they managed to tell us everything in one sentence. We all know about the highly talked about Apple 3G iPhone and that it will near enough have every single country covered but we have noticed that Spain is still not on this list, I would put money on it that O2 bags that one along with other countries.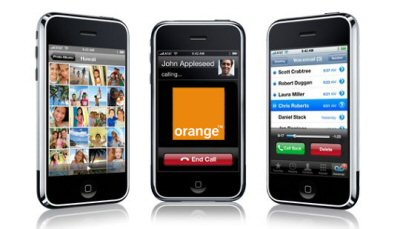 Now here are the confirmed expected Apple iPhone coverage (other than Canada and USA) —

EUROPE —
– Belgium — Orange
– Czech Republic – Vodafone
– Austria – Orange, T-Mobile
– Germany – T-Mobile (already available)
– France – Orange (already available)
– Ireland – O2 (already available)
– Portugal – Orange, Vodafone
– Greece – Vodafone
– Italy – Vodafone, Telecom Italia
– Poland – Orange
– Switzerland – Orange, Swisscom
– UK – O2 (already available)
– Turkey – Vodafone
– Romania – Orange
– Slovakia – Orange
Other Countries Confirmed Are —
– India – Vodafone
– Africa – Orange, Vodafone
– Dominican Republic – Orange
– Latin America – America Movil (Claro)
– Australia – Vodafone, SingTel (Optus)
– Egypt – Orange, Vodafone
– New Zealand – Vodafone
– Jordan – Orange
Some of these carriers obviously overlap, the good news is that the iPhone will not be an exclusive phone for say one carrier and indeed means the end of the exclusivity battle for the iPhone and will now all share the market, so to break that down it all means good competition to sell the iPhone which in return means much better prices. Lovely stuff we would say.
Source: Orange