Wikipedia articles in any language on your Apple iPhone: So simple to use
Oh yes you can all go hot out with Wikipedia on your Apple iPhone which is so easy to get and use and what is more in any language, this has been perfectly formatted for your iPhone.
Everyone including us is banging on about the release of the new Apple 3G iPhone but today we thought we would give you an application to break the day up. Many people go to Wikipedia to answer their questions that are sometimes too hard to find in search engines, well now if you open up your internet page on your iPhone and type in the URL address bar http://comoki.com/ you will find a few icons on their site with applications (We have listed them below), once you are their just click on the Wikipedia icon and there you go straight away no hassle there it is "Wikipedia".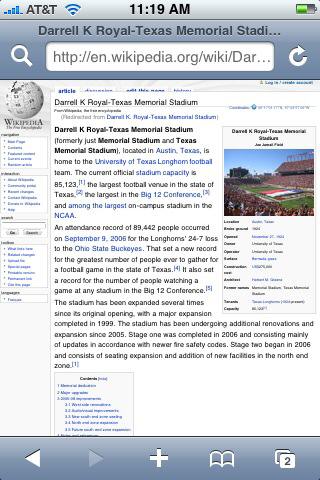 The iPhone-compatible Wikipedia is so much better than the tiresome iPodia which many people use because Comoki's version has a save feature plus allows you to collapse bulleted lists, you can even zoom images without reloading pages which is great as well.
Comoki's site also has these iPhone web applications TV Guide (Browse TV listings for the US with a great interface for your iPhone or iPod Touch), Dictionary (Lets you easily look up any word in the english dictionary or thesaurus), People (Lets you easily look up anyone in the US by name or phone number), Converter (A unit converter capable of converting between more than 90 measuring units) plus the good old Mahjong (A simple game of Mahjong solitaire for your iPhone or iPod Touch). Their other projects is that of TV-Guide 1.7 which is a norwegian TV-Guide widget for Mac OS X.
We can see Comoki having many more web applications popping up as the year goes on.
Source — Product Page via TUAW