H375 Bluetooth headset from Motorola review
Each time a new Bluetooth headset comes onto the market it gets smaller and smaller and more technological, so does Motorola's H375 Bluetooth headset stand out from all the other headsets?
Motorola's H375 is all about communicating and is pitched at those people who require a simple Bluetooth headset for those hands free calls, and is of a size that is practical as if Motorola had made it any smaller it would have been a tad fiddly.
Open the box and you will find a choice of two ear cushions than when placed with the ear loop means the user should be able to find a comfortable option which suits them. The H357's ear loop is removable and can be reversed for the left and right ear depending on personal preference. The H357's ear loop may irritate some people but its use does mean the user isn't simply relying on friction to keep it in place.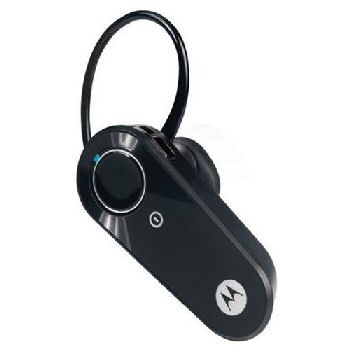 The Motorola H357 headset's design is a simple one yet looks fashionable and isn't too over technical so shouldn't be too hard to come to terms with as it does exactly as it says on the packaging. Pairing the H357 with your mobile phone as with most headsets these days is fairly straightforward, and once that is done the user will need to decode the selection of light flashes and button presses, which the H357 comes with a 188 page manual so should be too difficult to do as only 10 pages are actually in English.
All control of the Motorola H357 headset is centred round the call button which is easy to use and doesn't rely on your paired mobile phone setup. There are two more buttons to do with the control over the volume to make sure your ear doesn't receive an audible bashing.
The H357 incorporates one feature that some rival Bluetooth headsets don't and that's a standard miniUSB connector for powering the headset, so take an extra charger along with you so you are always prepared. The H357's battery allows for up to six hours of talk time so should see you through most of the day before requiring charging. To sum up, the Motorola H357 Bluetooth headset is an all round solid performer that one expects coming out of Motorola.
Source — pocket-lint