BrightonNet Apple iPhone & iPod Touch Pen: Why would they do this?
New stylus pen for Apple iPhone and iPod, why the hell do they make these styluses for smartphones, it is something I have never quite understood. We all know that the Apple iPhone can handle your finger so why do we all need a pen.
The BrightonNet's iPhone/iPod Touch PEN as we know is not the first ever device on the market but for some reason people want to keep making them, ok the new BrightonNet's pen is unique in the way the soft tip that is attached has a flexible neck, apparently this will help you drag and swipe much easier than your finger. The main features that these pens have includes the pen point adopted special material with the conductivity, pen point adopted the resin which did not injure liquid crystal, is attached by a storing-type reset pin after the writing, takes in the flexibility of the spring to a pen point, is the most suitable for iPod touch/iPhone and the color prepared for two colors of black and the silver. These BrightonNet's iPhone touch pens are compact in size which can easily fit in pockets; purses etc plus has a reset pin.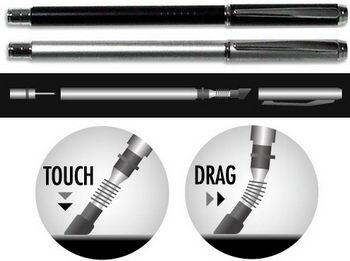 There is no word on pricing and availability as of yet but hey on a personally note — WHO CARES, come on our fingers dos a perfectly good job. Would you buy this pen?
Source — Oh Gizmo — Product Page