Cash and cheque don't cut it with Apple iPhone for AT&T and only one each
Stocks of the Apple iPhone are slipping away ahead of the expected release of the new 3G Apple iPhone, and because of this AT&T have issued a memo taking them back to the Apple iPhone early days when their policy was one Apple iPhone per customer.
Since the Apple iPhone's launch way back in June of 07, both Apple and AT&T stores have instigated various limitations on purchasing an Apple iPhone, and that was presumably a measure solely designed to slow down the re-sales of unlocked Apple iPhones.
However, now it can easily be said that this isn't the case but more that there just isn't enough Apple iPhone handsets to meet demands, and thus this one iPhone purchase per customer has been put in place.
The AT&T Mobility memo states: only one iPhone per customer can now be purchased at AT&T stores and the prior limit of three no longer applies as of the 14th of May 2008. Also AT&T will now no longer accept cheques or cash (is cash becoming a dirty word these days, I can remember when cash was more than acceptable) and will only allow purchases via credit or debit card.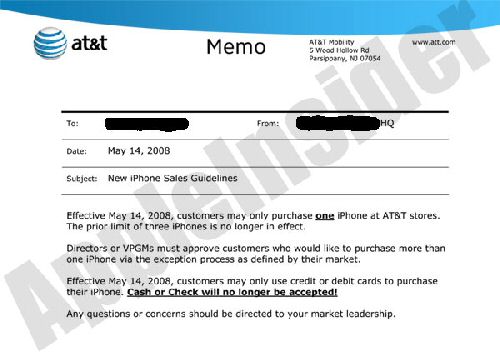 Ok so I can understand limiting purchases to one per customer, but really not accepting cash is a bit of a joke right? Since when did electronic money become so much better than real hard cash?
Apparently over the weekend both UK and US stores stopped accepting orders for the Apple iPhone, whereas overseas fair somewhat better. Seems like Apple need to get their finger out with the launch of the 3G Apple iPhone.
Source — appleinsider