The WND Atom Van Gogh paints a pretty picture with Wireless ear piece users
Not only are WND bringing us their new double phone Wind Duo 2000, a back to back double screen, double SIM, double keyboard mobile phone, they are now bringing us the WND Atom Van Gogh, which also brings the users something quite new, and that is a Bluetooth headset that folds away into the back of the mobile handset, seems like a cool idea to me.
WND bill the Atom Van Gogh as "catering for dynamic users in search of phenomenal functionality and performance. The in-built, detachable wireless earpiece gives the WND Atom Van Gogh a unique edge and delivers a much-needed, long-awaited solution to today's mobile users. The phone incorporates twin cameras which can be used for both still photography and video capture, while the music player lets users play back their favourite music files in MP3 and other formats."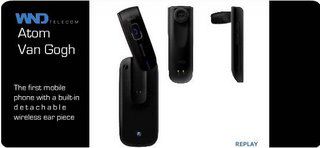 Specs on the Atom Van Gogh are: tri-band GSM 900/1800/1900 MHz, 2.0 inch TFT LCD QVGA display, built-in 3.0 megapixel camera with auto-focus, 128MB storage memory, 128x64Mbits PGM memory, and measures 105 x 48 x 15mm and weighs 75 grams, and according to WND the Atom Van Gogh can be used seamlessly across continents.
Ok so the specs look reasonable, and the Atom Van Gogh is 15mm thick, so fairly thin considering it houses a Bluetooth headset in its back, appearance wise it looks a descent enough mobile phone judging from the images. Although the WND website doesn't give a price or availability date we believe this one is coming soon.
Hmm writing this has jogged my memory about a post I did the other day, (see here) maybe I was right and the WND Atom Van Gogh will beat them to the Bluetooth post!
Source — WND