Apple iPhone console-like gaming control via iControlpad
A neat accessory for all Apple iPhone gamers comes from iControlpad, which apparently lets the iPhone gamer enjoy the real console-like experience while playing to their hearts content on their shiny sleek Apple iPhone handset. As yet the iControlpad is unavailable to the public at large, however the first prototype is ready and probably not that far away from the mass market.
According to the clever bods behind the iControlpad project, "the iPhone is locked perfectly in place when in the control pad." But that's not all as the iControlpad will not just be solely a thing for the Apple iPhone as iControlpad also intend making it compatible with the Apple iPhone Touch.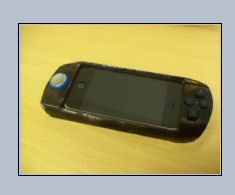 This peripheral attaches to the Apple iPhone dock connector on the bottom of the handset and wraps round the handsets sides. The iControlpad is said to provide the user with a PSX-like feel, and is already supported by some of the biggest iPhone developers, and IControlpad is still sending out more units to more developers, and also provides full source codes and SDK support.
So there you have it, now Apple iPhone users will soon be gaining a console-like control over their gaming so they can experience iPhone games to the full. One wonders though if iControlpad has the stats on the upcoming 3G Apple iPhone, and whether the iControlpad is adjustable to suit should the next generation Apple iPhone come out slightly different in size; maybe something iControlpad might want to think about, but then I'm sure they have every possible angle covered.
Source — icontrolpad