Jabra BT8030 Bluetooth headset and also works as a speaker
So maybe you are looking for an all-in-one headset for listening to your much loved music, well if you are then the Jabra BT8030 Bluetooth stereo headphones way well suit the bill because not only can it work as a great headset, but can also double as a speaker.
Jabra seem to have fallen in love with this concept over their many years of experience in mobile Bluetooth headsets, and once you pump up the volume on the BT8030 Bluetooth headset, you receive the music as if it's an actual speaker.
Jabra came up with the idea that would allow the user to simply turn on the speakerphone whenever the user feels like; however, when the user is on the move the Jabra BT8030 headset can be used as a more conventional headphone as originally needed.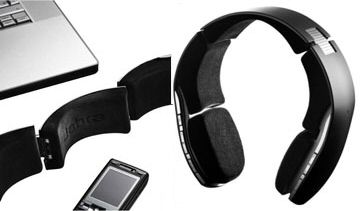 Although a tad on the bulky side and with control buttons inconveniently placed the Jabra BT8030 headset does give the user great sound quality, especially in headphone mode. The Jabra BT8030 Bluetooth headset also allows the user to pair multiple mobile devices, so if your MP3 player is separate from your mobile phone it shouldn't be a problem.
Using the Jabra BT8030 Bluetooth Headset as a headphone the user should be able to chat away for 32 hours in talk mode, while if listening to music in speaker mode the user should be able to gain 26 hours depending on how loud they blast out their music, and sitting in standby mode it should last up to 25 days.
Although the Jabra BT8030 Bluetooth headphone/speaker combo will retail a little on the expensive side at $249.99, you do get what you pay for.
Source — mobilewhack